Hello, my Fellow Readers!
Here we are--our final week of the Adult Summer Reading Program. Mizz Reader is reminded of the Seinfeld episode "The Serenity Now," where Jerry finds himself unexpectedly affected by a bad break-up:
Jerry (wiping at his face): "What is this salty discharge?"
Elaine: "Oh my God--you're crying."
But not to despair! This is what Mizz Reader likes to refer to as our Dos Equis Week! The week where, like chewers of Wrigley's Doublemint Gum (if not to mix metaphors, then certainly to mix commercial memes), we double our pleasure, double our fun! We have TWO randomly-selected prize winners:
Our Week 9 prize winner is tc5995! tc receives a $15.00 gift card from The Coffee Bean & Tea Leaf on Main Street and a copy of California Poet Laureate Juan Felipe Herrera's latest book Senegal Taxi.
(Mizz Reader loves this line: "Taxi! Taxi! People call. In the Brooklyn. Where? Senegal! I tell them. I come from Senegal! No one knows Darfur...")
Fun Fact: For all you poetry writers out there (br6085, Mizz Reader is looking at you), Juan Felipe Herrera's website has a huge section devoted to offering everyone the opportunity to get involved with poetry.  Check out the participatory projects Answer Cancer with a Poem, The Most Incredible and Biggest Poem on Unity in the World,  and I Promise Joanna/Yo te Prometo Joanna (your poems about being bullied).   As he says on LoWriter of the Week : " I'll be looking for you. Really want to encourage young teen writers, children and poets of all ages – all styles, all voices, all languages and worlds. California & Global. It is good to meet each other and hear each other."
And: Our Grand Prize winner--randomly selected from all participants who submitted 5 or more book reviews over the course of the 9-week program--is sp3087! sp receives a brand-new Nook HD 7" tablet.
Congratulations, tc and sp!
P.S. Can you believe we had only one troll attempt to register and submit a review this summer? (Mizz Reader would be beyond thrilled if Bruce Campbell--star of Evil Dead and author of If Chins Could Kill: Confessions of a B Movie Actor--actually DID possess an RPL library card. And we most certainly agreed with the many good things his imposter had to say about the memoir. Nice try!)
Here are a few of the highlights from this week's non-troll Fellow Reader reviews, which seem to have a theme of Voice, Hero Worship, and Salad (not in that order):
al9156's review of the cookbook Salad as a Meal: Healthy Main-Dish Salads for Every Season by Patricia Wells:
"While I like the idea of salad as a meal, I did not find this book to be appetizing or compelling. The author sounds like she has quite a luxurious life, yet her personal notes about how she enjoyed the salads at her various homes paired with various wines seemed a bit pretentious to me."
The title of this book, coupled with al's review (we feel you, al) had Mizz Reader heading straight over to Antonious Pizza on Main St. for lunch this week, where we scarfed a large pepperoni and black olive pie. All by ourselves. Three days in a row.
mm9417"s review of  the non-fiction book Lost Languages by Andrew Robinson: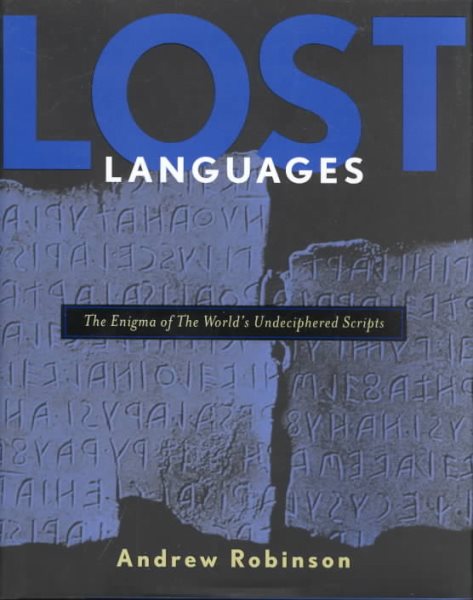 "As a linguistics student my primary interest is historical linguistics, and this book was a great read for me. Lost Languages gives you a variety of languages across the world that have yet to be deciphered."
Under the Summary provided in our catalog (expanded versions of which you can find for most RPL titles by clicking on the cover image), the publisher describes this book as "an archeological mystery book":
"Maybe it's the tantalizing possibility of giving new voice to long-hushed peoples and civilizations. Perhaps it's the puzzle solver's delight in the mental challenges posed by breaking their codes. Whatever the reasons, the public has long been fascinated with undeciphered ancient scripts and the ongoing efforts to crack them..."
Giving new voice to long-hushed peoples--Mizz Reader is queue-jumping this book to the top of her "must read" list.  Thanks, mm! (Your entire summer reading cache is pretty much awesome, btw.)
mc6966's review of Tenth of December, a collection of short stories by George Saunders:
"This collection of short stories is written so artfully it makes up for the fact that the stories themselves don't all appeal to my taste in fiction.  I am just amazed at the exquisite skill of the author who takes on different personae so completely that there is no hint of the actual writer's voice.  The topics are edgy but the book is well-worth reading."
Mizz Reader herself is a fan--both of George Saunders in particular and writers in general who can create voices so disparate from their "own." We are especially reminded of Eudora Welty's 1963 short story "Where is This Voice Coming From?," which she wrote in response to her rage over the assassination of civil rights activist Medgar Evers. Miss Eudora wrote from the first-person point of view of the killer--before Byron de la Beckwith was even identified or caught. And she nailed de la Beckwith's "voice" so perfectly that the New Yorker requested she change certain crucial details before they published the story one month after the murder. [Mizz Reader has decided not to include a link to the short story because some readers may find the strong language objectionable. You can find it for free on the interwebz, however.]
Speaking of voice and civil rights, and as we are approaching the 50th anniversary of the 1963 "March on Washington for Jobs and Freedom," Mizz Reader would like to invite you to check out our display at the Main Branch celebrating the new release of civil rights icon Rep. John Lewis's graphic novel March: Book One.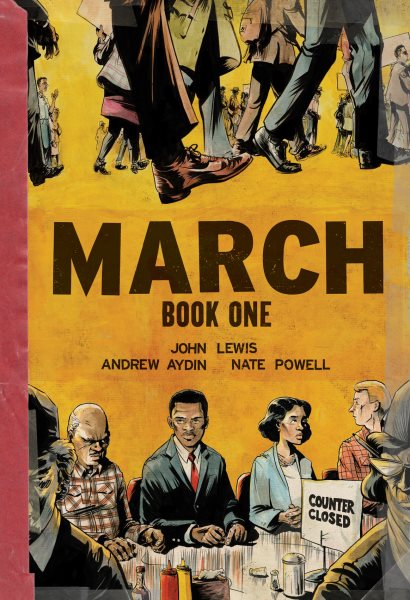 This is the first in a planned trilogy with co-writer Andrew Aydin and artist Nate Powell to share his story with a new generation: "March is a vivid first-hand account of John Lewis's lifelong struggle for civil and human rights, meditating in the modern age on the distance traveled since the days of Jim Crow and segregation. Rooted in Lewis's personal story, it also reflects on the highs and lows of the broader civil rights movement."
For your reading pleasure, the display includes a reprint (in both English and Spanish) of the 1958 comic book "Martin Luther King and the Montgomery Story," which inspired the idea for this new graphic novel.
(You can also read the full copy online here.)
Side note:
This happened:
(Rep. John Lewis, D-Ga., with RPL Director Tonya Kennon)
Along with our Riverside Public Library Director Tonya Kennon, Mizz Reader got to meet John Lewis at the American Library Association's Annual Convention this past June, where he and his co-creators spoke about March Book One. (Mizz Reader is not in this picture because she dead-fainted at the Congressman's feet. He and our Director allowed Mizz Reader to maintain a modicum of dignity by graciously overlooking our fan girl-like faux pas. The photographer, bless her heart, was kind enough not to step on our hair while we lay prostrate.***)
Well, we hope you have enjoyed the community connection of our inaugural online Adult Summer Reading Program as much as Mizz Reader has. Here's to hoping next year we can add our avatars, along with enabling an enhanced profile feature. Feel free to shoot us an email with feedback on what worked or didn't work with the program and what you'd like to see added or changed next year. Until then: Stay thirsty, my Fellow Readers!
P.P.S: ***This is not true. We are making this part up. Tina Fey would call this a "joke-lie."
Mizz Reader